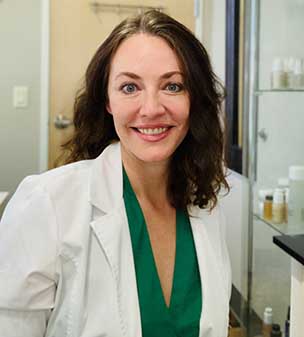 Erin Bishop FNP-C, GNP-BC, DCNP
Institute for Functional Medicine Certified Practitioner
Erin is the owner and sole practitioner at Vitality Integrative Skin Clinic. She holds multiple board certifications including Geriatric Nurse Practitioner, Family Nurse Practitioner, and Dermatology Certified Nurse Practitioner. She also has received extensive training in Functional Medicine through IFM (Institute for Functional Medicine). She has completed all 7 Intensive Modules and in December 2017 was awarded IFMCP (Institute For Functional Medicine Certified Practitioner) status after passing her certification exam and case study.
Erin first started working as a Nurse Practitioner in a conventional Primary Care office in 2006, then went on to work for a hospital based group seeing the acutely ill inpatients. She eventually went back to the office setting specializing in dermatology. It was there that she first started incorporating Functional Medicine into her care with patients with chronic skin issues such as psoriasis, eczema, and acne. Erin decided to open Vitality Integrative Skin Clinic in 2017 and specialize in patients with chronic skin issues, prevention and treatment of skin cancers, and aesthetics to better serve her patients and to give the care she believes truly will help them at the source.
This is a small family owned and operated practice, which allows for longer appointment times and individualized care.
Erin's journey to Integrative and Functional Medicine was not a straight path. Diagnosed with an autoimmune disease at 29 years old, Erin suffered from unexplained debilitating episodes of abdominal pain. During this time, Erin experienced what it was like to suffer and not have anyone qualified to help her.
It was this life-changing event that drove Erin to Root-cause medicine, which is a coined phrase for a branch of medicine that seeks long-term solutions to chronic illness. Through her research and training in Functional Medicine, Erin was able to slowly heal herself with nutrition, stress reduction, and botanical treatments. She is passionate about caring for her clients in the same manner and believes no one should have to suffer.